WE ARE EXCITED THAT YOU ARE JOINING THE WINC|ALINC COMMUNUTY 
AS A MEMBER YOU WILL BE GIVEN ACCESS TO ATTEND OR VIEW THE SERIES BELOW

NEW EVENT SERIES:
Strengthening Through Perspectives
Looking forward to our first in-person event of the year!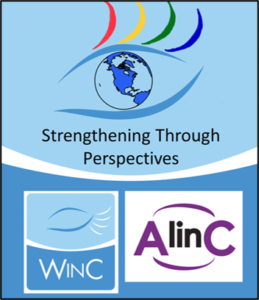 DATE: FRIDAY, APRIL 28TH, 2023
TIME: 5:00 PM start if in person option 6:00 PM start if virtual option 
LOCATION: FACULTY CLUB, UNIVERSITY OF TORONTO
The evening will begin with our annual AGM for in person attendees to review our progress and plans for 2023 before moving into our new event series.
Strengthening Through Perspectives brings forward an opportunity to share perspectives from across fields (clinical oncology, scientific research, STEM, industry) and across career phases to strengthen ourselves as individuals and as a community.
On April 28th, you'll hear from Keynote Speaker Sharlene Gill as she shares personal lessons in her career journey, advice on professional growth and how to embrace uncertainty in a talk and fireside chat. This will be followed by a dynamic interdisciplinary panel on career journeys, pearls and more!
We welcome you to come join us for a delicious dinner as you network with the WinC – AlinC community.
Please register by April 3rd to secure your spot!
Hope to see you there!
WinC – AlinC Team

*more details to follow
PLEASE USE THE LINK ABOVE TO SUBSCRIBE TO BE A MEMBER
WE ARE CURRENTLY FIXING THE SIGN UP FORM BELOW